Say bye to smelly trash bins!
Get tired of preventing the smell from the trash bin? In addition to that, did you know the rubbish in the garbage is a breeding ground for many types of bacteria, viruses, fungi, and other organisms if it is not removed timely? Say goodbye to trash odor without harsh chemicals! Simply use O3 Bin Pro Deodorizer to stick to the top of your trash can, and odors and germs are trapped instantly.
Oshiner O3 Bin Pro, a breakthrough ozone innovation, eliminates odors and bacteria with powerful ozone in one easy step. With 3 modes to suit different sized garbage cans, this ozone machine can eliminate germs and odor in just 10 seconds. The disinfection rate is up to 99.9%.
This ozone machine is rechargeable. It has a 1800mAh built-in battery that can continuously work for 10-14 days. As a good tool to fight odors and bacteria, it can be used in the home, office, restaurants, and many other places.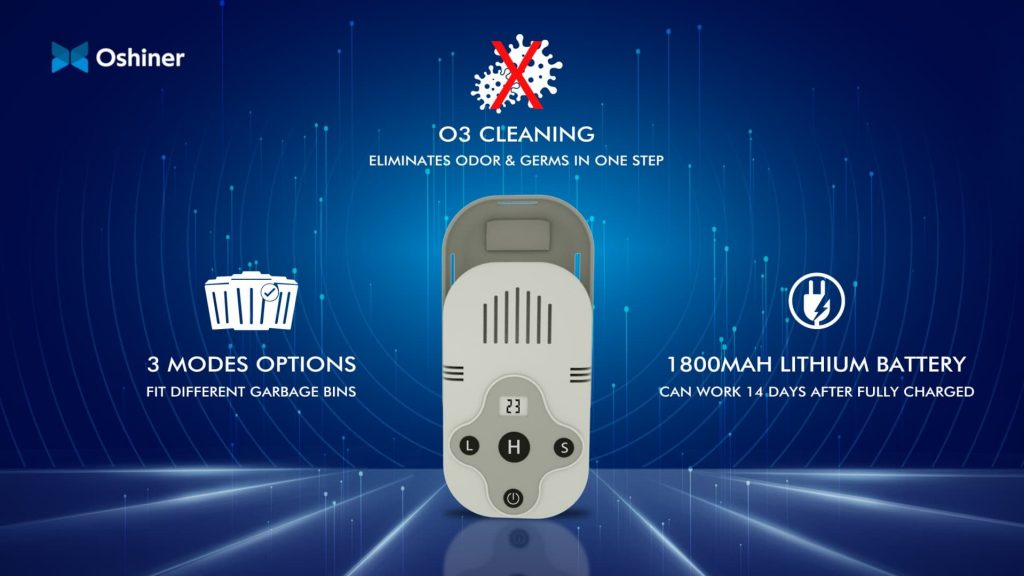 Features
♦ 3 Modes Options – Can fit different sized trash cans.
♦ Ozone Cleaning – Eliminate odor and bacteria at one easy step.
♦ Built-in Battery – With 1800mAh lithium battery, it can work 14 days after fully charged.
♦ 99.9% Sterilization Rate – Eliminates the germs & virus on surfaces instantly that it takes no contact time.
Specifications
| | |
| --- | --- |
| Item Model # | OSN-BP03004WT |
| Dimension | 105 x 55mm |
| Rated Power | <0.5W |
| Ozone Output | ≤10mg/h |
| Ambient Temp. | -10℃~50℃ |
| Battery Capacity | 1800mAh |
| Net Weight | 125g |