A handy, efficient aqua sterilizer transforms water to disinfectant just in 1 minute! So fast, so easy! How amazing!
2021 Innovation – Oshiner Aqua Sterilizer, is a disinfectant maker with electrolysis ozone technology. It could quickly change the water into the sanitizer (ozonated water), with no need for any other materials. And the disinfectant could immediately kill 99.9% of bacteria and viruses on your hands or object surfaces in a more natural way.

What's more, the ready-made disinfectant (ozonated water) is 100% skin-friendly and baby-friendly that there's no chemical residues on the skin.

This ozone device is a pocket machine that can be easily carry on for go-out and travel.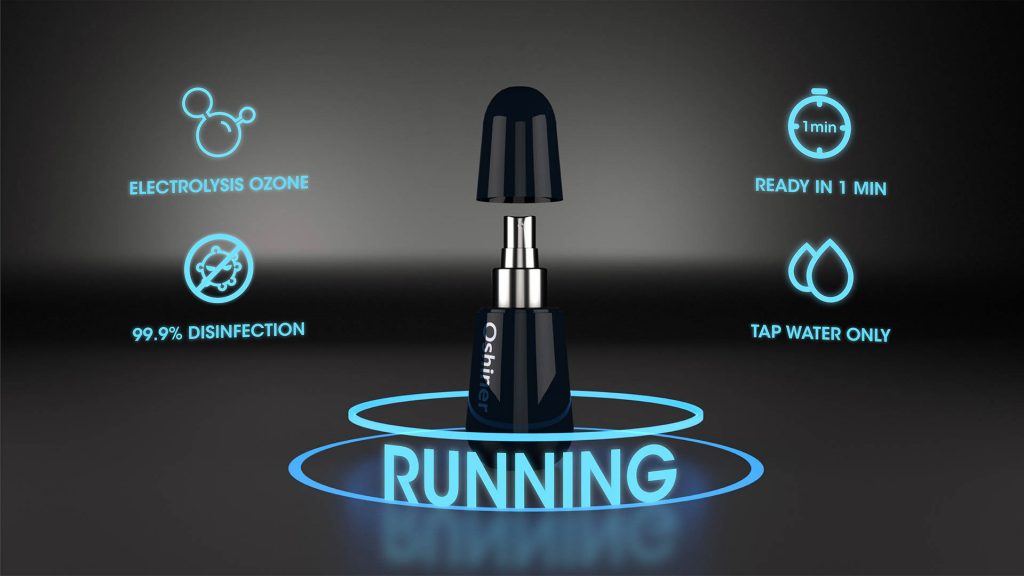 Features
♦ Tap Water Only – Just need tap water or mineral water only to make the disinfectant.
♦ Ready in 1 Minute – It takes 1 minute to transform the water into a sanitizer.
♦ No Other Chemicals – With electrolysis ozone technique, it's unnecessary to use other chemicals or even salt.
♦ 100% Skin Friendly – Ozonated water is harmless to our skin, even for the babies.
♦ 99.9% Sterilization Rate – Eliminates the germs & virus on skin and surfaces instantly that it takes no contact time.
Specifications
| | |
| --- | --- |
| Item Model # | OSN-AS03003BL |
| Material | PC |
| Dimension | 48 x 121mm |
| Power Input | DC5V |
| Power Outpu | 12W |
| Bottle Volume | 60ml |
| Battery Capacity | 260mAh |
| IP Level | IPX6 |
| Net Weight | 75g |
| Ambient Temp. | 0℃ —— 50℃ |
| Certification | CE / FCC / EPA |